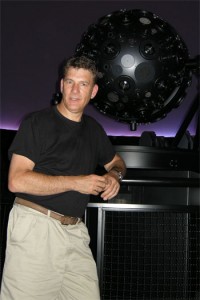 I am an avid amateur astronomer, tinkerer, designer, observer and love to get involved in projects where I'm using my hands and mind. I live in Chelmsford, Massachusetts with my wife, just 8 miles from the observatory of the Amateur Telescope Makers of Boston.
I got involved with ATMoB over 11 years ago when I decided to build my first telescope. This 8″ reflector went on to win an optical excellence award at the Stellafane Convention, and the unique mount took an award for innovative mechanical design. Since that time I've built, rebuilt, refurbished or repaired many different telescopes and mountings for myself and others.
I've also had several astro-adventures including trips the the Winter Star Party in Florida, the Black Forest Star Party in Pennsylvania, and a public star party with the Beijing Planetarium in China. I trekked 6000 miles across China in 2008 to view the Total Solar Eclipse from the Gobi Desert, and traveled back to China as well as Korea, Japan and the little island of Iwo Jima in the Pacific to catch the Total Solar Eclipse of 2009.
In October of 2009 I traveled to the National Astronomical Observatory in San Pedro Martir, in the Baja California state of Mexico, to record a Kuiper Belt Occultation with their 60″ telescope at 9,100′ elevation. And in February 2010 I traveled to Brazil to record another KBO, this time coordinating observations by several local astronomy clubs. I'm very excited about working with some of the planetary scientists at MIT on this project.
Please browse around, click on some of the links and share your thoughts with me as I share with you…