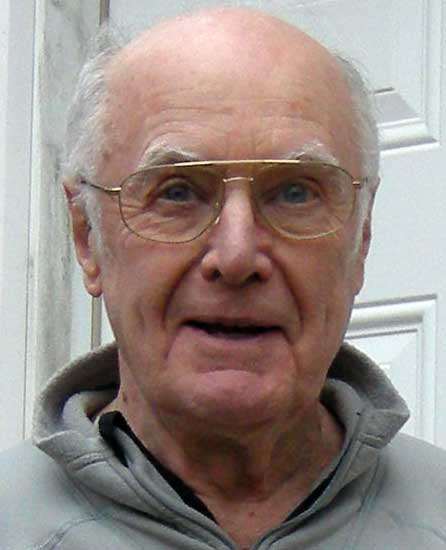 I have a good friend – we've been buddies for about 5 years now, and his name is Fred. Some of you who are at least my age might remember him from television as Doctor Fred the Weatherman on WNAC-TV Channel 7 in Boston.
Today Dr. Fred is a forensic meteorologist, which his late friend Norm MacDonald described like this, "… forensic meteorologists determine if fog was thick enough to severely limit visibility at the time of an accident, if a sidewalk was icy, or if glare could have blinded a driver, causing an accident".
So what's this all have to do with astronomy? For years, Fred has been an avid amateur astronomer, always investing in the latest equipment. He and his wife Ruth bought some property in New Hampshire several years back in part because of the clear skies that are nearly free of light pollution. Fred chuckles when he tells the story about getting the building permit for his 50′ high observing 'shed'. "The application asked for the footprint, so I put down 12'x12′. There was no place to write down the building height." Fred and some family members built the 43′ high, 4'x4′ pier out of concrete block, with a sturdy wooden structure covered in vinyl siding wrapped around it, and capped off with an AstroHaven clamshell dome.
Back about the time I met Fred at a meeting of the Amateur Telescope Makers of Boston, he was contemplating an upgrade to a ride-on telescope. Fred wanted to buy or build a mount with an integrated observing chair. The idea was that as the telescope panned across the sky, the observer's chair would move with it, allowing views of any part of the sky while eliminating the necessity of ladders and stools. Now I'm a gadget guy, so this seemed like a dream project and I started to help Fred with his research. The concept was not new, certainly other telescope domes had this feature, but the ones I knew of started at about a 1.5m aperture and grew from there. His idea was brilliant, but after looking into it further it proved too expensive to be implemented in this home observatory.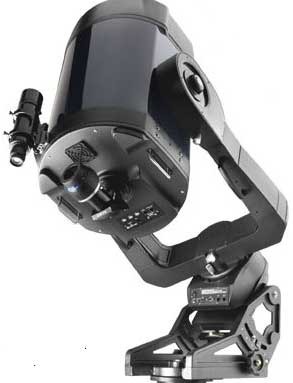 So after giving that up as impractical, Fred purchased a 0.36m (14″) ?Meade RCX-400 telescope and a Pier-Tech adjustable height pier. Fred called upon a few fellow club members to help with installation.
Another problem Fred was trying to solve was the wind effect on the telescope (and the observers, brr!) when the clamshell dome was opened to the sky. So Fred started doing research, and located a slitted dome manufactured by Sirius Observatories in Australia. He ordered the 3.5m dome and it arrived several months later.
The manufacturer recommended that the dome be assembled on the ground and then lifted to mate with a pre-installed track, but there was no crane that could maneuver up Fred's driveway and lift the dome over his house and trees to the top of the observatory. Being a well-trained and experienced engineer, Fred had done many calculations on installing the dome, and decided we'd do a dry run in his garage to demonstrate that we could do it completely from the inside, since there was no place to stand outside if we had to assemble it 50′ off the ground.
Here's a time-lapse movie of the trial in Fred's garage.
So we assembled a crew from ATMoB, and in the early fall of 2008 we recreated what we did in the garage, this time 50′ higher. We had about 8 guys show up, and we carefully removed the clamshell and installed the slit dome. I've got to say that things went very smoothly throughout the day, and we were buttoned up tight to the weather by dinnertime. I wish I could find the time-lapse video I shot that day, but I think it's been reduced to random bits on an old hard drive.
The next task was to synchronize the dome and telescope movement, so as the scope panned across the sky the 2′ wide slit would always follow. The dome came with MaxDome hardware and was ASCOM compliant, and after a bit of experimenting we found the LX200 ASCOM driver to be the most reliable. We're using Software Bisque's The Sky 6 planetarium software, so now when we point to a star on the computer monitor, the telescope and the dome move to that target.
Did I mention that Fred would rather not trudge up the 48 steps to the observatory to open the dome for cooling a couple of hours before observing? Well who would if there was a choice?. Next step, remote control. I installed RealVNC client and server in Fred's observatory and home office, so now when he wants to open the dome, he can do that from inside the house. Maybe you can see where this is leading…
Fred recently bought himself a MallinCam. This is a color video camera that can go down as low as 0.00002 lux! With the MallinCam connected to a video capture device through the observatory computer and remotely controlled from inside the warm house, it's conceivable that Fred will be able to take advantage of the dark, crisp New Hampshire skies from the warmth of his living room.
Once the last pieces of the project are in place and tested, Fred should be able to open the dome, align the telescope and observe everything from deep-sky objects to the moon without ever leaving his easy chair.
But then there's the elevator he's thinking about…
Now that's living!
Bruce